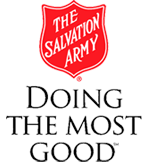 True North Partners with Salvation Army to fill Red Kettles
True North Consultants believes that building a sustainable environment starts with grounding ourselves within our most valuable resource – our community. Therefore, we are committed to aligning our resources with our social values.  True North Cares (TNCares) reflects our commitment to supporting our community through our annual True North Charity Challenge and give back days.  This year's TNCares took place on December 7, 2017  when True North took to the streets of Naperville to support the Salvation Army Red Kettle Campaign. True North brought the holiday spirit to red kettles in Naperville and raised enough money to provide 138 meals to those in need in our community.
The Salvation Army is the largest social service organization in the world and the single largest direct provider of social services in Chicago and the State of Illinois. The Army operates 200 points of entry in neighborhoods across the greater Chicago area, providing disaster relief, shelter, meals, rehabilitation programs, child care and head start, senior services and more. On any given night, about 900 people are sleeping under a Salvation Army roof. In 2010, The Army celebrated 125 years of service in Chicago. The Salvation Army is there every day, 24-hours-a-day in Chicago and throughout the country providing disaster relief to people in crisis.
Read More